Looking for an Online Auction Software for your next auction?
Are you looking for a quick and easy online auction software solution to suit your business's needs? Are you after online auction software that is simple and intuitive, to take the stress out of your next auction event?
With 15 years of online auction experience, Webtron's online auction software makes it easy to bring your auctions online, with options for timed and live webcast auction formats. All auctions run straight from your own website in your own branding and colours, meaning that your customers continue to always interact with your own brand – not ours.
Timed or live webcast auction format
Our modern and intuitive online auction software ensures a positive online experience for you and your bidders, whether you're after a timed or live webcast auction format – or both.
Timed online auctions are run online over a set amount of time, usually about a week. Once set up, your auction runs on its own, allowing your customers to bid online at a time that suits, providing you a great opportunity to focus on your auction marketing.
Or, bring excitement to your auctions by holding them live online with real-time audio and video. Live webcast auctions occur on a given day, with your bidders placing bids in real-time. Pre-bidding is also available prior to your live auction event. All the tools you need to make your auctions an online success.
White-label auction software to build your brandings
Our cloud-based auction software is so modern bidders no longer need to download apps for any auction format. The state-of-the-art auction software will seamlessly integrate into your own website. The auction software page is fully customisable to tailor to your branding, colours and logos.
Unlike many competitors, at Webtron we set clients up with their own auction software system. Providing you full control of your bidders. Bidders will never need to leave your website.
Online auction solutions for your business
🎥 Live Webcast Auctions
⏳ Timed Online Auctions
📈 Marketplace
👩‍💻 Remote Clerking option
✅ Everything you need & will run from your own website
🏷 White Label Auction Software – 'value protect your bidders & IP' ( Not a group site
)
So modern works on all devices without frustrating bidders to download apps
🧑‍💻 Includes Setup, Training & Local Ongoing Support
🧾 Auction invoicing & reporting
🖥 Websites & marketing
😊 Simple for bidders and powerful for auctioneers
So ready to get started?
A wide range of features available to enhance your auctions

App-free bidding
Auctions run straight from your website on any modern computer or mobile device, no apps needed.

Real-time updates
Your bidders can keep track of all bids in real-time without continuously refreshing the bidding page.

Detailed lot information
Add detailed product information with as many pictures, videos and supporting PDF documents as you'd like.

Bid Extension
Allow bidding to continue for an extended period of time to maximise bidding activity.

Lot staggering
Close your lots off in sequential batches to maximise bidding activity on larger auctions.

Real-time audio and video
Stream your auction events in real-time.

Webcast pre-bidding
Allow time-poor bidders to place their bids before and during your live webcast auction instead.

Multi-currency and language translation
Reach your desired target markets with options for multi-currency and language translation.

Social sharing options
Share auctions or individual lots to Facebook, Twitter, LinkedIn, Whatsapp, Weibo & more!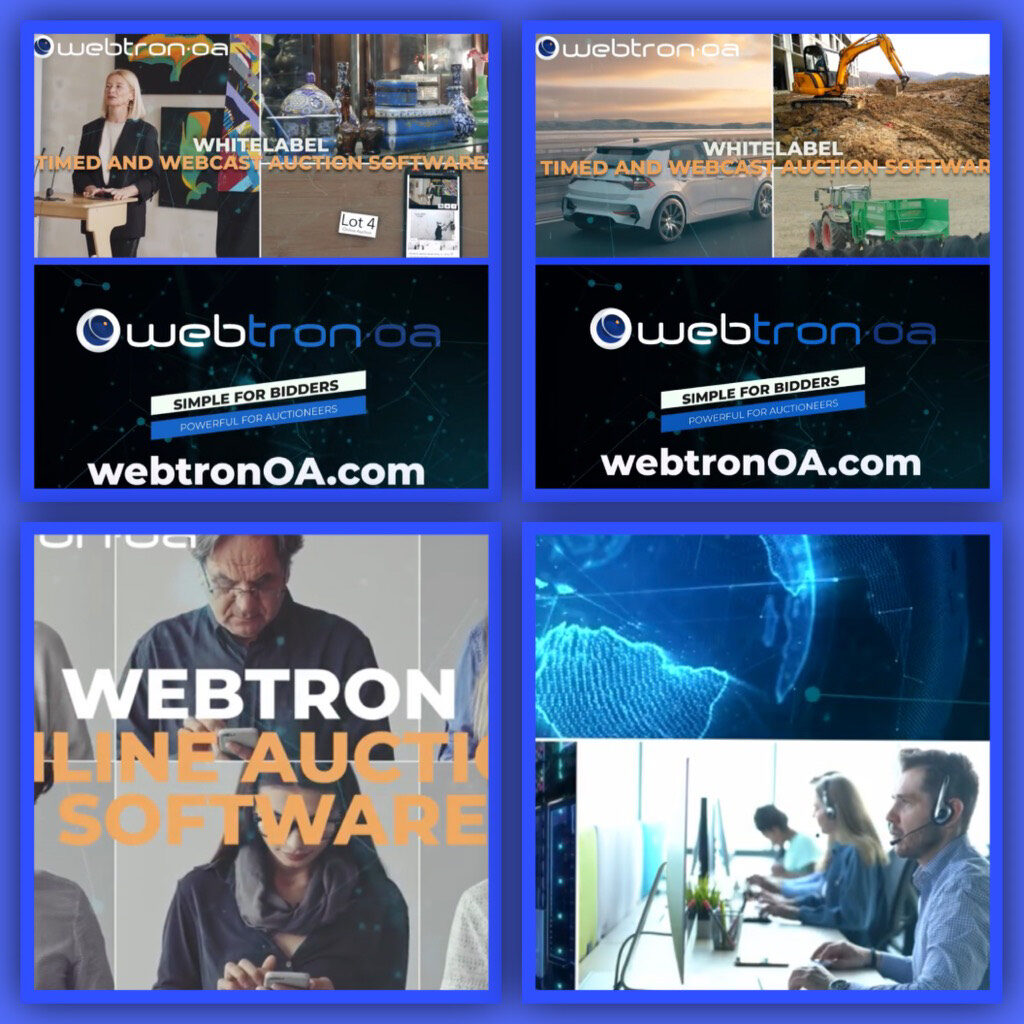 Webtron 7.0 has arrived with the latest updates and features
There has never been a better time to upgrade your online auction software to Webtron's 7.0 newest auction software release.
Take advantage of a white label auction solution that runs from your own website. It has been designed for Software auctioneers like you to take your online auction business to another level.
It's 'Simple for bidders and powerful for auctioneers'.
Please get in touch and arrange a demo for your business.